UK new car registrations rose 15.0% in February as 58,994 new cars hit UK roads, according to the latest figures from the Society of Motor Manufacturers and Traders (SMMT). The rise of 7,682 units was from the same month in 2021, when the pandemic shuttered car showrooms across the UK. Despite this positive performance, registrations are down -25.9% from pre-pandemic levels as vehicle supply remains constrained by semiconductor shortages.1
Compared to February 2021, when showrooms were closed and only "click and collect" was allowed, private registrations increased by 30.0%. Large fleet registrations remained stable, up just 2.0%, indicating that in a market constrained by supply, manufacturers are also prioritizing individual customers, who accounted for more than 80% of growth. While business purchases increased by 110.7%, this equates to an increase of only 693 units.
It was, however, another bumper month for battery electric vehicles (BEVs), which took a 17.7% market share to 10,417 units, while plug-in hybrid (PHEV) registrations reached 4,677. units and a market share of 7.9%. Combined with hybrid (HEV) registrations (6,883), electrified vehicles accounted for more than a third of all new cars leaving dealerships. While this demonstrates the growing demand for electric cars, February is typically the month with the lowest volume as many buyers delay purchases until March "new plate", and fluctuations in supply for certain key models may have a more pronounced effect in terms of market share.
However, the need for accelerated provision of public charging points is of greater concern for the long-term provision of net zero road transport. Investments are underway, but at a rate that still lags behind the adoption of plug-in vehicles. Last month, the industry released its seven-point plan to increase the number of public chargers on the street ahead of needs.2
Meanwhile, April will see the effective end of the Electric Vehicle Homecharge Scheme (EVHS), which provided vital funding for homeowners to install their own charging station. Ahead of the government's spring statement, SMMT is calling for an extension of both EVHS and its commercial counterpart, the Workplace Charging Scheme, beyond 2025 to ensure EV adoption stays on track to meet the government's net zero delays. It also recommends that the VAT on electricity used for public charging stations be reduced to match that for household use, so that EV drivers are treated the same no matter where they are. recharge their vehicle.
Mike Hawes, Managing Director of SMMT, said: "Despite traditionally low February registration numbers, consumers are turning to electric vehicles in ever-increasing numbers. More than ever, infrastructure investment must accelerate to keep up with this growth. The government must use its forthcoming spring statement to enable this transition, continuing to support home and workplace charging, boosting the rollout of public charging stations to tackle charging anxiety and, given the massive increase in energy prices, by reducing VAT on public charging stations. This will boost consumer and business confidence and accelerate our move to zero-emission mobility. »
Jon Lawes, Managing Director, Novuna vehicle solutions: "Supply chain pressures continue to hamper new car production, with some automakers reporting average wait times of up to 22 weeks, meaning a wave of new plates hits the roads in the coming weeks.This has a ripple effect on service, maintenance and repair (SMR) budgets and reinforces the importance for fleets of having reliable price protection in place with their leasing provider.
"Almost one in four new car registrations in the UK is now an electric vehicle (EV), rising to half if hybrid vehicles are included. unprecedented, the savings that EV drivers can achieve are becoming increasingly significant and compelling, meaning that motorists will increasingly turn their backs on petrol and diesel cars in favor of EVs.
Meryem Brassington, Head of Electrification Proposals at Lex Autolease, said: "After a banner year for zero-emission vehicles, there appears to be no sign of the market slowing down, with electric vehicles now accounting for 15.5% of all new motors purchased in the UK. Coupled with several manufacturers forecasting the With new electrified models coming out this year, the outlook for electric vehicles looks exceptionally bright.
"Despite the ongoing industry turmoil that continues to impact new vehicle supply, green shoots of recovery are beginning to appear within the supply chain and we may see some of pent-up demand released in the coming months.
"Yet unless we see continued investment in rolling out publicly accessible charging stations, the UK will ultimately be unable to meet the demand for an electrified future. All eyes will be on the Chancellor this month for more clarity and additional incentives for fleets and private drivers to accelerate the electric revolution.
Leon Wong, Head of Electric Vehicle Business Development at The Pilot Group, said: "Motor after month, motorists are increasingly choosing low-carbon vehicles over ICE alternatives, and it is essential that government and industry work together to maintain this momentum and meet demand.
"Key to this will be tackling common barriers to adoption, such as the availability and equality of charging infrastructure. So it's encouraging to see that changes to the Electric Vehicle Charging Scheme (EVHS) – which come into effect next month – will mean increased support for landlords, social housing providers and people living in apartment buildings.
"Financial recovery remains a clear driver for individuals and businesses going electric, and must remain a priority for policymakers as the UK seeks to achieve its Road to Zero targets."
Lucy Simpson, Head of EV Proposals at British Gas, said: "Despite the headwinds of material shortages and supply chain disruptions, it is encouraging to see electric vehicles continuing to drive growth in the new car market – another positive step as the UK accelerates on the way to zero.
"In order to stay ahead of the electrification curve, we must continue to address charging challenges to prevent the millions of people without private driveways from being locked out of EV ownership. It is clear that there are regional disparities in the availability of public charging and these need to be addressed. Attention will turn to the Chancellor's statement later this month for clarity on any additional incentives to support the UK's electrification journey.
Jamie Hamilton, Chief Automotive Officer and Head of Electric Vehicles at Deloitte, said:"February new car sales were up 15% from February 2021, when sales were hampered by showroom closures due to COVID-19 restrictions. While that means a year-over-year comparison doesn't reflect the true performance of the industry, sales also remain well below pre-pandemic averages in what is traditionally a weak month for businesses. purchases of new vehicles.
A booming second-hand market
"Despite the current pressure on the cost of living, consumer demand does not appear to be showing any significant slowdown. However, with new car sales hampered by a shortage of semiconductors – hurting both inventory and the order fulfillment – the used car market is booming with the average cost of a used car now said to be over £20,000 with some 'near new' stock selling for more than when it was new as dealers attempt to keep up with demand.
'22 incoming plate
"Manufacturers and dealers will barely have time to reflect on February's performance as all eyes turn to March. The release of a new plate means March is traditionally the biggest month for new car sales and can account for up to one in five annual registrations. However, manufacturers' ability to fulfill '22 wafer orders will likely be compromised by the current shortage of semiconductors.
Rising fuel prices push consumers to electric
"The electric vehicle industry continued to innovate in February. Battery electric vehicles (BEVs) and plug-in hybrids (PHEVs) grew 196% and 49% respectively in February, and now hold a combined market share of 25 This compares to 13% in the same period last year.
'There are no signs of a slowdown in electric vehicle sales and with petrol and diesel topping £1.50 a liter in recent weeks, some consumers will likely be considering the savings they could make by switching to EVs. 'electric as soon as possible.'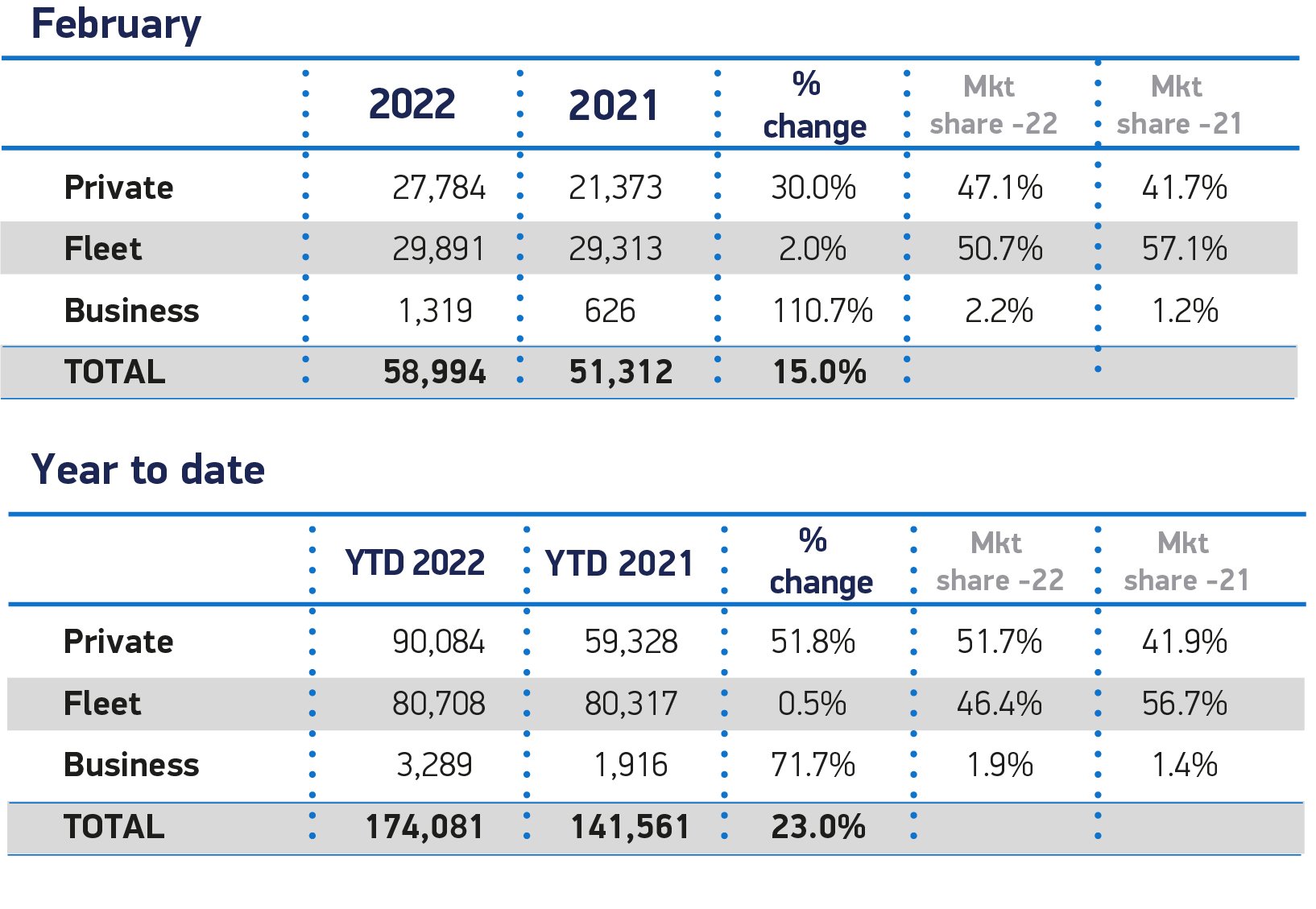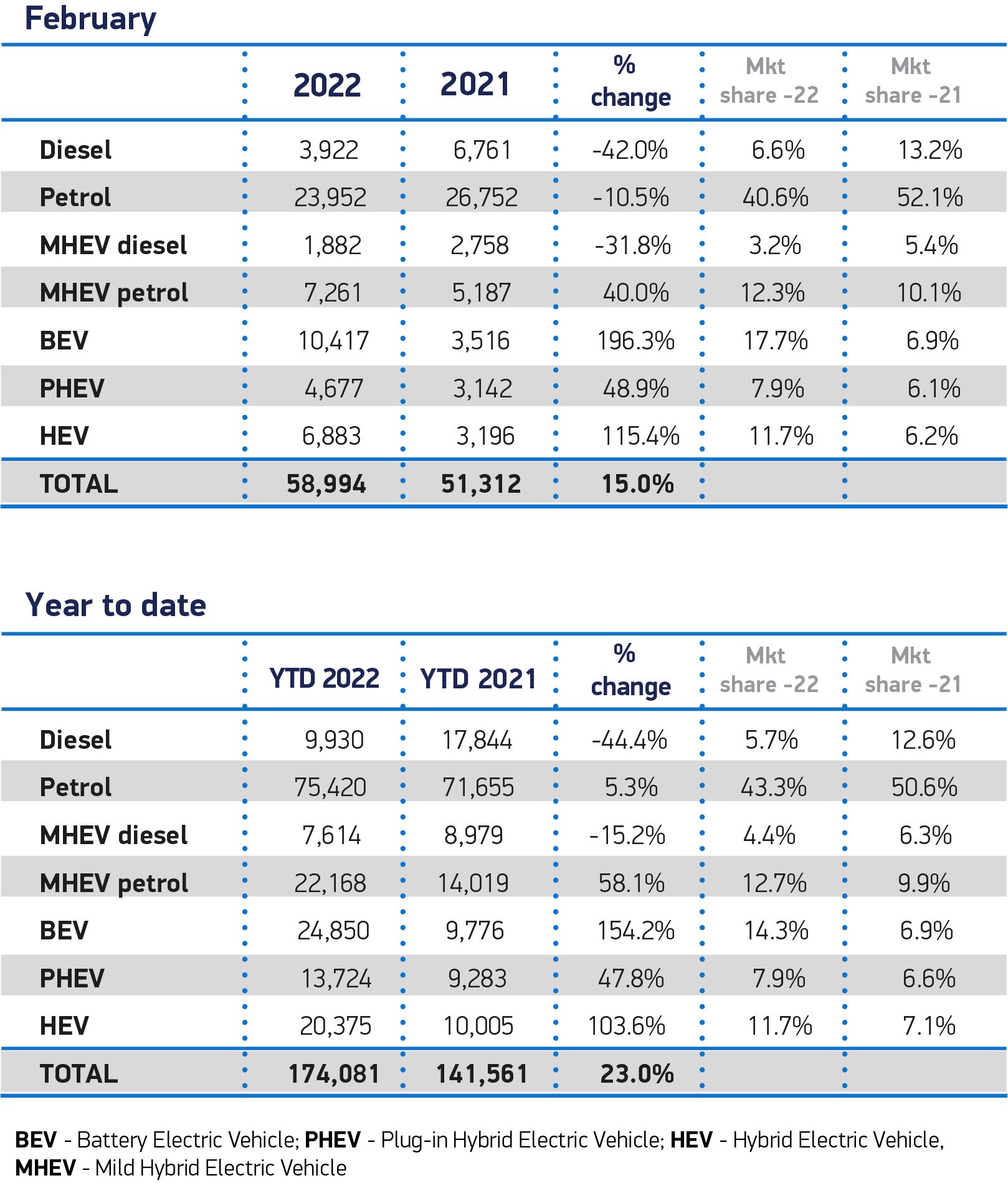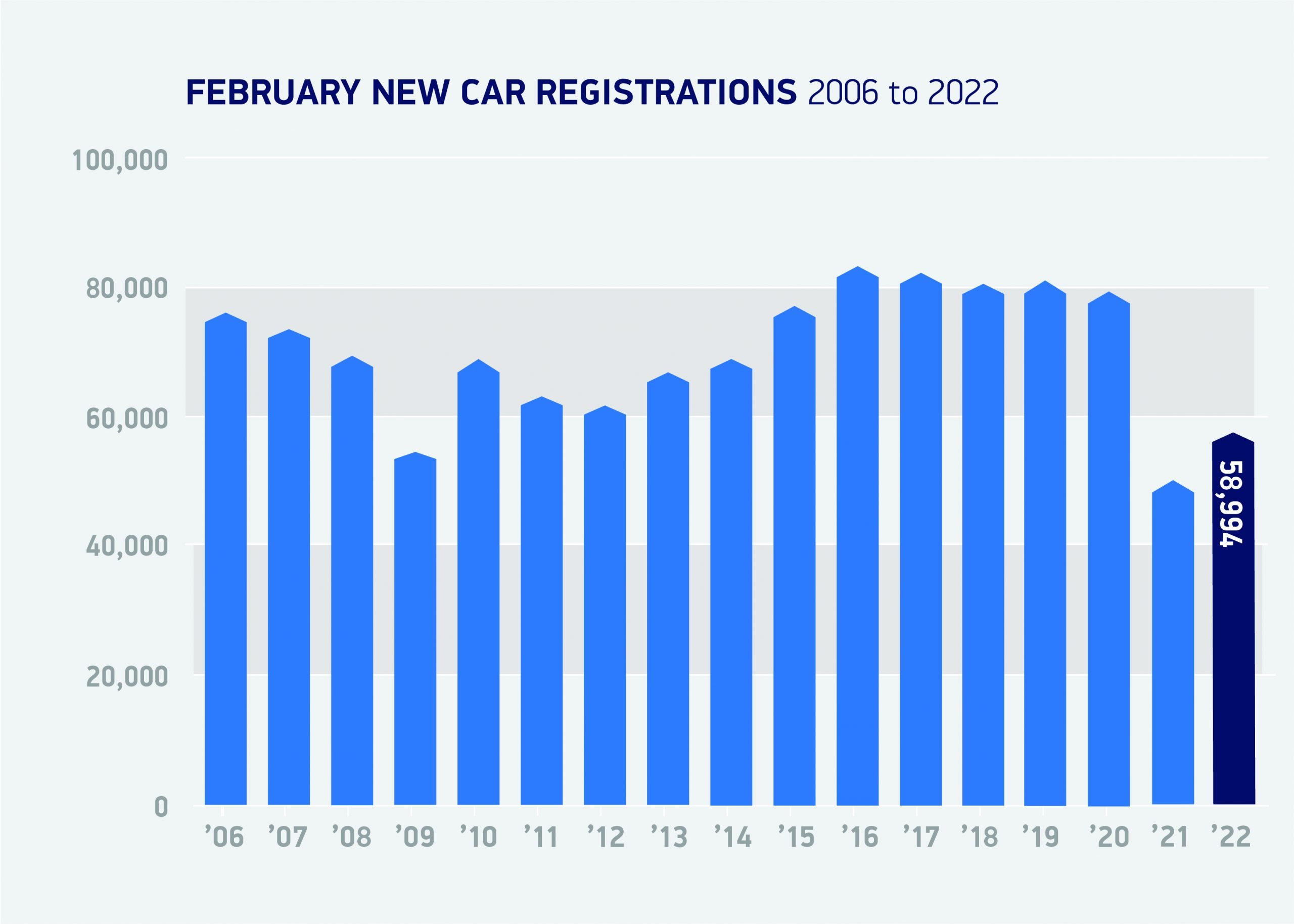 ---
1 Registrations February 2020: 79,594
2 https://www.smmt.co.uk/2022/02/uk-automotive-calls-for-ev-chargepoint-mandate-governed-by-independent-regulator-to-level-up-network-for-consumers/