In April 2022, passenger car manufacturers wholesale 903,000 vehicles, down 46% year-on-year and 50% month-on-month, according to the China Passenger Car Association (CPCA). In addition, 1.052 million passenger vehicles were sold in retail in China, with an average of 35,000 cars sold per day, a drop of 35% over one year. Despite all this, Warren Buffet-backed automaker BYD managed to grow 136% year-on-year, selling 106,000 cars.
CPCA stated that retail Passenger car sales remained weak in April due to public health measures taken by Chinese regional governments for the pandemic, which impacted dealership store operations. For some brands, 20% of their distribution stores had no customers.
According to a survey conducted by the China Automobile Dealers Association (CADA), among the 94 cities surveyed, dealerships in 34 cities closed their stores due to pandemic public health measures and policies, and more than 60% of dealerships closed. their stores. for more than a week. Dealerships have also been unable to hold car shows, leading to a sharp drop in customer flow.
Vehicle manufacturers and suppliers also slowed production in April due to the pandemic. For example, more than 80 percent of Li Auto's spare parts suppliers are located in the Yangtze River Delta region, according to Shen Yanan, co-founder and chairman of Li Auto. Due to the impact of the pandemic in the Yangtze River Delta, "some suppliers have completely halted work and operations." It is impossible to maintain production after the exhaustion of existing stocks. As a result, Li Auto's delivery in April was only 4,167 units, a drop of more than 60%.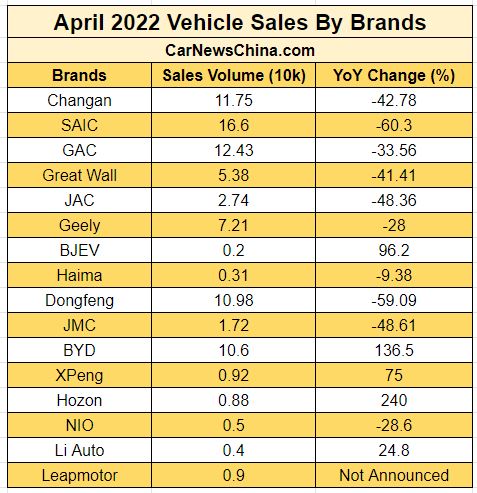 Several companies recently released their April sales data. According to CPCA, manufacturers of new energy vehicles still rely on social media to keep customers interested in buying cars.
Although BYD stopped production of ICE vehicles in March, meaning their April 2022 sales are only pure EVs and PHEVs, they managed to grow 136% from April of the year. last, when they were still selling ICE vehicles.
Optimistic restart of production
With the pandemic situation gradually improving in China and auto parts suppliers accelerating the return to regular operation, car sales are expected to increase in May compared to April this year. Suppliers such as SKF and Aptiv are also gradually resuming work and ensuring that raw materials enter the factory to maintain production.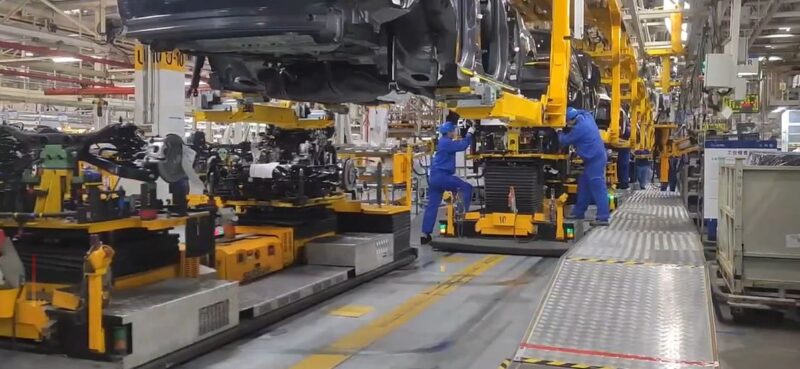 On April 18, most production at FAW factories in Changchun resumed work, including the FAW-Volkswagen and FAW-Toyota joint venture factories. In Shanghai, OEMs like SAIC and Tesla have already rolled vehicles off the production line. At the end of April, the capacity utilization rate of SAIC's three major passenger car brands at its Shanghai factories all increased to more than 30%.
ABOUT CPCA
ACIPR is a non-governmental organization created in 1994 by SAIC Volkswagen and several other sedan manufacturers. Its original name was National Sedan Market Data Fellowship Society. It is not qualified for automotive statistics nor authorized by the government to collect and publish automotive statistical data. It is simply a platform for exchanging data between automotive companies by collecting data from the reports submitted by these companies.
ABOUT CADA
CADA was established in 1990 and is headquartered in Beijing. It operates as a social organization made up of companies and institutions engaged in the automotive trade industry. It offers policy research, information, trade self-discipline, communication and exhibition services.
Source: Sohu, HuanQiu, CADA, Sina