The Hilton Group has officially opened its new 75,000 square foot classic car showroom, restoration and accident repair center in Bishop's Stortford.
The Audi, Bentley, Jaguar Land Rover, Mercedes-Benz, Seat, Tesla, Volkswagen and Volvo authorized repairer has expanded with the creation of the purpose-built facility that spans three floors and includes a hub for vehicle, a roof terrace and a workshop.
It also includes a new Hilton car storage facility, offering concierge-style storage in a humidity and temperature controlled environment.
Hilton's new building joins its existing properties off Raynham Road, Bishop's Stortford, bringing the total area operated by the business to over 100,000 square feet.
Group founder Peter Hilton said: "This new facility is the future of our business, perfectly encapsulating everything we do here in the group.
"The new state-of-the-art showrooms are the perfect showcase for our fine restoration work at Hilton & Moss – as well as TVR and Lotus models as part of Car Sales – our 30-bay, two-storey workshop further extends our reputation as the largest manufacturers approved repair center in the UK, and Hilton Car Storage showcases our absolute passion and attention to detail.
"More than that, however, we wanted to create a real destination for car enthusiasts in the South East and beyond."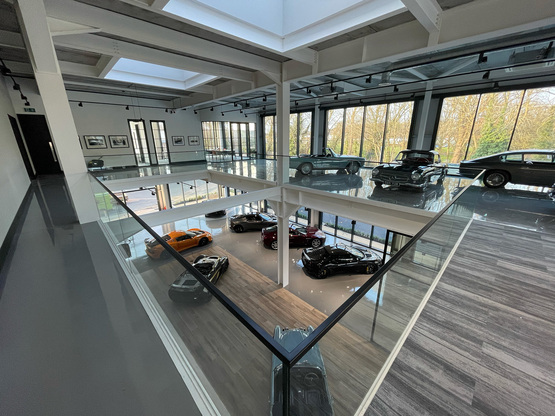 A two-story showroom sits at the front of the new facility, showcasing models from in-house classic car restoration and sales company, Hilton & Moss, as well as modern sports cars from Lotus and TVR.
Its workshops offer 30 bays spread over two floors.
The Hilton Group incorporates a number of businesses, including a body repair operation which it says is "the largest manufacturer-approved repair facility in the UK".
Hilton & Moss is a paint specialist and its restoration work has been exhibited around the world, including at premier collector car events like the Salon Privé.
A Mercedes-Benz 190SL, restored by Hilton & Moss for the David Gandy model, was part of the line-up at a recent edition of the prestigious London Concours and placed first in the Warrant Concours.