A used car dealership in Plymouth is facing demolition and rebuilding to allow for major improvements to the town's roads.
Plymouth City Council is aiming to widen the A386 Tavistock Road after buying a strip of land, currently the front forecourt of Turners of Roborough concessionaire, which would call the future viability of the business into question.
The loss of the land will require the entire Turners site to be restructured to continue operations, with the building, sales office and canopy being demolished, and a replacement building with the sales office constructed further into the property.
Its planning application stated: "The loss of frontage of the site of the existing car sales business to accommodate the motorway improvement project renders the existing car sales business unviable as has been discussed at length with Plymouth City Council.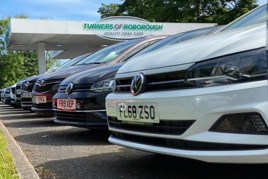 These discussions are continuing during the review of this planning application.
Turners pointed out to council that "the replacement building is similar in scale, content and use to the existing facility.
"Essentially, the replacement building and parking display areas fully mirror the existing building premises and vehicle display on a similar business."
However, some trees on the property, which are subject to preservation orders, will need to be removed "to provide a commercially viable car-selling business at this location," Turners' planning statement said.