Used car sales have slowed, with the average price of a car advertised for sale falling 4.7% in the second quarter, according to eBay Motors data, which showed the impact of the growing crisis cost of living in the UK.
While market analysts noted that tight supplies and bloated order books meant the new car retail sector would be insulated from the impact of soaring inflation for some time to come, Online market data has shown that the tide may be turning for used car dealerships.
The average number of dealer selling days increased by nearly three full days, from 36.7 to 39.5 days, in June, as the average price of used cars advertised on eBay Motors Group platforms fell 1.4% from £16,872 to £16,627, the fifth consecutive monthly decline.
Lucy Tugby, head of marketing at eBay Motors Group, said: "The average drop of £245 in advertised prices in June represents further evidence that they are returning to more normal levels as consumer demand wanes.
"We are seeing the impact of rising household costs on potential buyers, confirming our recent Consumer Insight Panel study which found that one in five car purchases are delayed due to the cost of living crisis. Lower demand meant dealers took longer to sell cars from smaller inventory in June.
"However, the average price of a used car is still more than 20 per cent higher than last June, a difference of £2,804, so dealers are holding their ground on deal prices continuing to maximize opportunities available."
According to eBay Motors, franchise dealerships suffered the most from slowing consumer demand in June, with their average days to sell rising 14% from 31.2 to 35.6 days, followed by independents up 3%, from 45.3 to 46.5 days, while car supermarkets remained stable at 28.5 days. , compared to 28.1 in May.
The decline in June advertised prices on eBay Motors – to a level that remained 20.3% from June 2021 – was dragged down 1.5% to £14,496 in the independent dealership sector.
The value of used cars from franchise retailers fell 0.6% to £19,872 and from used car supermarkets fell just 0.5% to £16,802.
In line with the industry-wide shortage of used cars, inventory levels fell for the second month in a row, down 2.4% from 46.1 to 45 units. However, the average remains 9% higher than the 41.3 units in June 2021.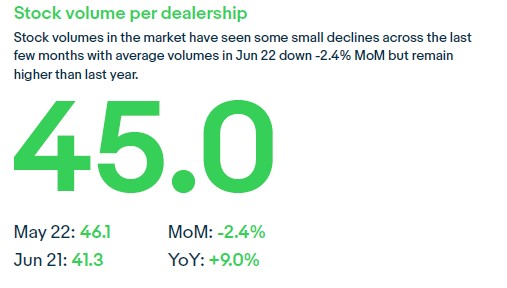 Data from eBay Motors said used car supermarkets bore the brunt of the shortage with stocks down 3.1% from 293 to 284, while franchise dealerships were down 5 .4%, from 56 to 53. Independents remained unchanged at 36 units.
Speaking in AM's recent General Managers Guide webinar on 'holding the right stock', Car Shop General Manager Nigel Hurley said the Sytner-owned business has adjusted its stock to include vehicles older and more affordable in response to vehicle shortages and the cost of – life crisis.
Tugby said: "While the first half of the year has seen a general stabilization in prices and days on sale, we recommend dealers pay close attention to consumer needs as demand evolves with the impact on the cost of living. By staying alert to stock type, pricing and online visibility, savvy dealers will be able to keep up with incoming waves. »